LX40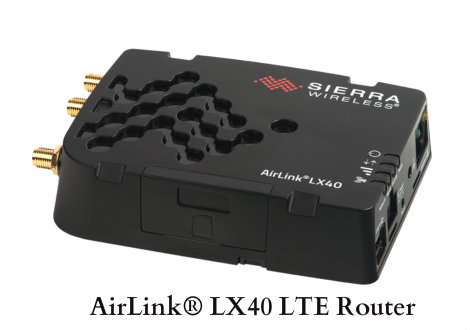 AirLink® LX40 LTE Router
The AirLink® LX40 is our most compact LTE and LTE-M / NB-IoT router for IoT/M2M applications. The LX40 provides "out-of-the box", secure, managed LTE networking for IoT and enterprise applications such as IP Cameras, Security, Point-of-Sale terminals and Smart Lockers. LX40 is also ideally suited for connecting industrial, remote data logging and sensing equipment in protected (indoor) locations, and supports processing of IoT data at the edge. The LX40 is also available with Wi-Fi, to act as a local hotspot or connect to wi-fi infrastructure. The LX40 is designed to meet the environmental and performance requirements of a diverse range of IoT applications in indoor or protected outdoor locations.
· Most compact LTE router in its class supporting 150Mbps/50Mbps (DL/UL)
· Power-over-Ethernet— Powered Device capability, ideal for fixed low power applications
· Supports edge processing and IoT applications with ALEOS Application Framework (AAF)
· LTE and LTE-M/NB-IoT variants for global deployments
· Remote, secure network management in the cloud or in the enterprise
Click on the link below view LX40 Specifications:
AirLink LX40 | Enterprise LTE Router | Sierra Wireless
AirLink® Management System (ALMS)
The AirLink® Management Service (ALMS) is a secure cloud-based device management application
that makes it easy to deploy, monitor and upgrade any number of routers and gateways remotely.
Configure, deploy and remotely manage your fleet of AirLink gateways

Easily deploy new firmware and keep your fleet current

Display up-to-date views of the entire fleet on configurable dashboards
AirLink® Manager (AM)
Designed for applications where cloud-based management is not an option, the AirLink® Manager (AM) is a leading-edge, end-to-end on-premises network management solution that enables simplified, remote and real-time mass configuration, control and troubleshooting of AirLink® routers and gateways, connected infrastructure and mission critical applications.
Deploy, configure and remotely manage any AirLink® router or gateway

Troubleshoot and manage configurations remotely

Customize views, segment assets and infrastructure, and manage
multi-level user privileges
Display geographic view of entire network of AirLink routers and gateways

Advanced reporting capabilities