RV50X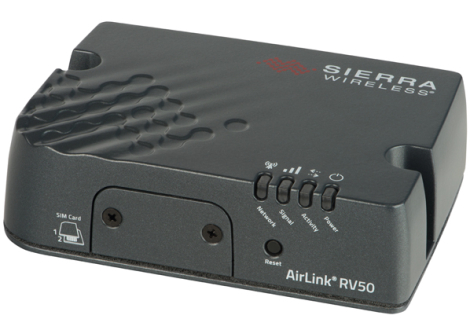 The AirLink® RV50X is the industry's lowest power and most rugged LTE router. Simple to install and easy to manage, this industrial-grade router is designed to connect critical assets and infrastructure. Ideal for energy, utilities and smart-city applications, the RV50 provides real-time remote connectivity for SCADA, distribution management systems and metering.
· LTE performance at 2G power consumption (less than 1W in idle mode)
· State of the art LTE coverage spanning 21 LTE frequency bands worldwide
· Two product variants cover the globe
· Fully automatic network operator switching: just insert the SIM
Click on the link below to view RV50X Specifications:
Industrial IoT Router | RV50X | Sierra Wireless
AirLink® Management System (ALMS)
The AirLink® Management Service (ALMS) is a secure cloud-based device management application
that makes it easy to deploy, monitor and upgrade any number of routers and gateways remotely.
Configure, deploy and remotely manage your fleet of AirLink gateways

Easily deploy new firmware and keep your fleet current

Display up-to-date views of the entire fleet on configurable dashboards
AirLink® Mobility Manager (AMM)
The AirLink® Mobility Manager (AMM) is a leading-edge, end-to-end network management solution
that enables simplified, remote and real-time mass configuration, control and troubleshooting of all
routers, connected mobile assets and mission critical applications.
Deploy, configure and remotely manage any AirLink device from the enterprise data center; available in the cloud for MG routers and gateways

Remote troubleshooting and configuration management

Customize views, fleet segmentation and multi-level user privileges

Real-time view of entire mobile network

Advanced reporting functionalities

Detailed information about access routes, incident scenes and

structures

Designated zones for vehicles in fleet

Location, speed and time-based reporting